This is a very inspiring talk on many levels. On the one hand Victoria and her organization are saving lives from diseases you and I have never even heard of. But the business model is non-profit. For a pharmaceutical company, that's truly world changing.
Simply put, Victoria Hale's organization has saved thousands of lives. Join the founder of OneWorld Health–the first nonprofit pharmaceutical company in the US–as she shares her vision of bringing an end to what she calls the "diseases of poverty."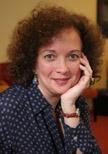 Victoria is founder and CEO of the Institute for OneWorld Health, a nonprofit pharmaceutical company with a mission to develop affordable drugs to treat diseases that plague the world's poorest communities.The institute recently received approval for and brought to market its first drug, paromomycin, a low-cost antibiotic cure for visceral leishmaniasis, which afflicts approximately 1.5 million people worldwide, primarily in India, Nepal, Bangladesh, and Sudan. Research to create paromomycin was largely funded by a grant of $10 million from the Bill and Melinda Gates Foundation. Treatments underway for malaria, diarrheal disease, and Chagas disease hold the potential to save the lives of millions more.
From PopTech (video too) or (right click to download or click the arrow to) listen
.