I'm a long time fan of Danny Kahneman. I collected as many links to Danny's audio and video
talks as I could find back in May of 2008. It remains a good collection and I recommend you check
it out. In the meantime however, Danny released his book, Thinking Fast and Slow, and I've been
excited to read all the great reviews. Not only that, but Danny's book tour resulted in quite a few
audio interviews. I've collected as much as I've found in this post and will updated it as more comes
in. Enjoy!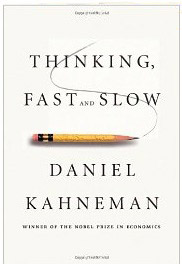 LessWrong.com: The Cognitive Science of Rationality 12 September 2011
Wired, Jonah Lehrer: The Science Of Irrationality October 18, 2011
The New York Times, Daniel Kahneman: Don't Blink! The Hazards of Confidence October 23, 2011
New York Post, Kyle Smith: Think vs. blink October 23, 2011
The New Yorker, Jonah Lehrer: Is Self-Knowledge Overrated? October 25, 2011
The Wall Street Journal, Christopher Shea: Daniel Kahneman's Politics October 28, 2011
The Economist: Not so smart now Oct 29th 2011
The Chronicle, Evan R. Goldstein: The Anatomy of Influence November 8, 2011
Vanity Fair, Jaime Lalinde: The Quiz Daniel Kahneman Wants You to Fail November 8, 2011
Financial Times, William Easterly: Thinking, Fast and Slow November 5, 2011
The New York Times, Jim Holt: Two Brains Running November 25, 2011
Freakonomics: Daniel Kahneman Answers Your Questions November 28, 2011
Sam Harris: Thinking about Thinking November 29, 2011
The Boston Globe, Jesse Singal: "˜Thinking, Fast and Slow' by Daniel Kahneman December 04, 2011
Cleveland.com, Karen R. Long: Daniel Kahneman makes 'Thinking, Fast and Slow,' a mind-blower December 11, 2011
The New York Review of Books, Freeman Dyson: How to Dispel Your Illusions December 22, 2011
The Guardian, Oliver Burkeman: Daniel Kahneman: 'We're beautiful devices' 14 November 2011
The Independant: 'We're blind to our blindness.   24 November 2011
Vanity Fair, Michael Lewis: The King of Human Error December, 2011
The Marvels and the Flaws of Intuitive Thinking Edge Master Class 2011 (Danny on video for 1:21 + lengthy notes)
Audio
At the LSE Thinking Fast and Slow – Daniel Kahneman in conversation with Richard Layard November 15, 2011
New York Public Library Daniel Kahneman In Conversation with David Brooks December 16, 2011
Forum- A World of Ideas Making Better Judgements Daniel Kahneman,   Ngaire Woods,   Julian Baggini November 19, 2011